"Coming late is better than leaving in the middle" the girl behind me trills to her friend as she hurries to the restroom before the show. Another of the cohort slyly asks, "is that one of the tips?…" The girls cackle and I think to myself, "I hope this is an indication of a lively and fun Sunday audience." Neither the audience nor the actors let me down. Although a rainstorm drenched most of the patrons before the opening lines of the Matt Murphy and Shawn Nightingale play "Sex Tips for Straight Women from a Gay Man" at the Temple Theater in Des Moines, IA, one cannot be sure if the audience was more moist at the beginning or the end of the show. Nevertheless, they definitely left the theater a happier lot.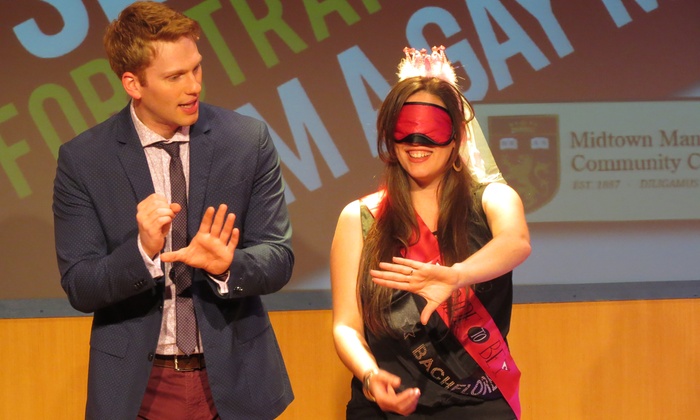 Watching this production in Iowa, where attitudes about discussing sex often run the gamut from tame to prude, may actually be more entertaining than attending in a bigger market. Having a group of people who are practically giddy at the mention of a few rebelliously risqué topics is an improv actor's dream in a show that relies so heavily on audience participation. Throw in a few regional-specific jokes or gags, as director Tim Drucker and the cast do, and you've got this audience rolling in the aisles.
What makes this production so effective is the pacing. Sam Tebaldi as Robyn, the mousy, nervous academic called in to lead the book discussion at the last-minute, purposefully adds a catalogue of little physical tics to underscore her character. Furthermore, these hesitations help balance the rapid pace at which Grant MacDermott as Dan beguiles and provokes the audience. MacDermott, as the Gay BFF author and pied piper of the undersexed, is responsible for the lion's share of the improv and does it with aplomb (even keeping the thread when an ambitious audience member responded to a cat joke with, "I'd like to hear more about your…" well, nevermind, better left for the stage.) Rounding out the speed-settings of this show is the hunk-of-all-trades Mat Leonard who incrementally ratchets up the tension between his character Stefan and Robyn. In addition to the romantic gestures, Leonard's physical comedy gives both Tebaldi and MacDermott moments to catch their breath before the tempo of the asides spin out of control.
 While "Sex Tips for Straight Women from a Gay Man" flies by with a laugh per minute, it also tucks a nice moral into the mix. Amid the phallic and playfully erotic, there is a suggestion that may eventually make it into those 'Iowa Nice' conversations that "having better sex isn't just about having better sex."