Everywhere she looked around her, our diva saw people actively living success after success. She saw her friends from the neighborhood heading off to their jobs as the youngest member of the executive team the company has ever had or building photography businesses from the ground up and now there they went to shoot their first six figure contract. Arriving at her desk a little world-weary, she could just pick up the tonal inflections of her boss negotiating a high-flyer's new salary and commission bonus schedule happening in the board room. It sounded like it was going well.
"Maybe I should have chosen a different path," our diva thought as she blew on the surface of her just brewed coffee. Looking over the rim of her mug, her eyes alighted upon the spine of a book buried in the other papers on her desk. As the computer monitor jumped to life and our diva typed in all the compulsory key strokes, she slid the book out and flipped toward the middle. Something caught her eye.
The Day 6 challenge on your journey is to apply the Mills 8R Marketing Model to your singing career.
With her coffee hovering just below her lower lip she mouthed, "The Mills 8R Marketing Model." Anyone walking by would have noticed her conspicuous eye roll. She flipped back to the marigold cover of the book she had grabbed and noticed that it was suitably titled: The Rainmaker's Toolkit. Her eyes scanned down the page and she read,
Higher profits
Double-digit growth
Better clients
"Fine," our diva's mind beginning to stir into action, "this could be helpful." With that, she was off. She started consuming everything that she could find on the Mills Model. She knew that marketing does not make the business. But, she needed help building her business as a singer and figured that this would help her figure out the things she needed. The marketing tools could help her identify other missing aspects of her "business plan." She had half-heartedly started a business plan a few years ago and would somewhat begrudgingly update random sub-sections every time she felt a little bored at work. This feeling was different.
Relationship-Driven Music Business
She started reading into the paragraph on the Mills Model, "For the last three years, the Mills Group team has been researching and field-testing a relationship-driven model and methodology that, when implemented, consistently delivers double-digit profits and growth." Well, that relationship-driven part really caught our diva's eye. That made sense to her when it comes to passion-based careers and a field like music in which it feels like the right relationships can really boost your career. She read on, "The model had to pass three tests:
Offer professionals superior insight on how to find, keep, and grow profitable clients.
Focus effort on the key marketing strategies that have the greatest impact on creating long-term, sustainable, and profitable growth.
Be memorable, easy to understand, and above all, practitioner friendly."
The Mills 8R Marketing Model
That did it right there. Easy to understand? Perfect. Memorable and practitioner friendly? Ideal. She wet her finger and quickly turned the page. Practically reading them out loud, she went on,
"R1 – Revitalization: Rejuvenate your value proposition with new services, sharper differentiation, and premium pricing."
R2 – Retention: Hold onto your existing golden high-profit clients.
R3 – Reacquisition: Win back your valuable inactive and lost clients.
R4 – Referrals: Network with the right people.'
Half-way through her coffee and it was starting to cool. She was glued to her chair. But, our diva noticed that there was a growing pain in her stomach. A pain shot through her body to remind her that her stomach acid was ready to attack her at any given moment. She felt annoyed more than anything else. She was consumed with what she was reading:
"R5 – Regeneration: Target the right markets.
R6 – Rainmaking: Close more sales while retaining margin.
R7 – Related Sales: Up-sell and cross-sell to increase client share of wallet.
R8 – Reputation Building: Brand your practice to attract premium business.
Her thinking started to whirl with all the professional services-speak. But, she could start to parse some of it together and she began to think of connection points or associations to her singing life. Thoughts, rapid-fire, were coming at her from all directions. The fuzziness of trying to think of her singing career as a business was starting to wear away. The concept was becoming more real. When she would read sentences like, "Marketing success starts with the creation of a compelling value proposition that allows you to sharply differentiate your services from your rivals and charge the premium fees you need to prosper," she had to begin asking herself some tough questions. "Am I even clear on what my value proposition is?" was one of them. That lead her to thinking, "Who are my rivals and how would I even consider charging premium fees when I'm part of this so-called surplus society?"
How Can I Apply This to My Singing Career?
She felt more comfortable with the "Target the right markets" prompt. That made a lot more intuitive sense to her when it came to making sure she was auditioning for the right roles and applying for opportunities that were looking for singers like her rather than just throwing her audition fees and materials at any and every opportunity that came her way. But, related sales? Reacquisition? Rainmaking? How the heck did that transfer? She couldn't go back and do the same YAP or summer program she did in the years before. That would be a step back, of course. She couldn't allow herself to think about what it would feel like to go back a step. And, how could she cross-sell anything she was currently doing? There were only a handful of professional opportunities that she was right for every year in her area. It was absolutely too time-consuming to be in more than one show at once. Her eyes floated back to the phrase "identify and win large profitable new accounts" and could only think of The Met or La Scala when she thought large and profitable. She let out a little gasp as the pain in her stomach made itself known again. It was more annoying than anything. The pain wasn't enough for her to think it was serious. She wasn't gonna spend a doctor visit on it or anything. "Maybe I need to cut back on my coffee consumption," she pondered with a hint of sorrow.
Our diva started diving deeper into these thoughts. She realized that most of her colleagues follow the same tried and true, or seemingly so, proven way of having a singing career. But, there isn't anything superior or better about necessarily doing it this way. What if she didn't have to do the undergrad, grad school, YAP (x infinity), resident artist contract, and then the inevitable march up the OPERA America Company Member level system? She had already participated in part of that. But, it didn't feel like she was any closer to the goal. Heck, after her crisis about "having no artistic integrity" the other night, she barely even knew what the goal was anymore.
What Does a "High Impact" Opera Field Look Like?
She wanted to discover new and different ways of creating value for the field. Our diva did not want to play on a field in which audition fees, jewel tone wrap dresses, and awkward sexual advances from audition panelists were the big navigational issues of the day. She wanted to know what a "high impact" opera field would look like. What would that feel like? She found a burgeoning desire to define her career in terms of measurable improvements and opening up new possibilities. She wanted to work together as a collaborator in every stage of the project. She didn't want to only be a tired caretaker of a museum piece. She wanted to expand her reach. Snapping back to the reality of her messy desk and cold coffee by another pain that made her lean back in her chair, she started to realize just how tough these plans could be.
Who knows if even doing all of this work would actually bring her singing success? She started to worry that she might be deluding herself by focusing on these ambitious entrepreneurial skills. "I mean, if I had the goods, wouldn't I be succeeding already?" she nagged herself. A feeling arose reminding her of being a hanger-on to the cool kids in high school. She envisioned herself blindly thinking that she fit in and was being paid attention to by the crowd of students while in reality she was just barely blending into the fringes.
I Need More Time
She clapped the book shut and slid it off to the side. "This is ridiculous," she muttered, "What was I even thinking? I don't have the time or energy for this. What did I think I was going to do with this information?" She let herself become consumed in her email inbox. It felt so good to be replying quickly and picking those little missives off one by one. She comforted herself by thinking that maybe she should just wait a while until it's easier to spend time on really thinking about all of that business stuff. "See, this is productive. This is much easier to get done right now than any of that."
---
29 Days to Diva: The Worksheets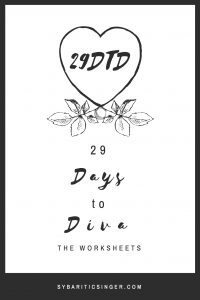 Want some help completing your Day 6 challenge? 29 Days to Diva is all about tackling the big issues of our careers through micro-actions. What can you do today to move yourself closer to unlocking your artistic integrity or achieving your biggest goals and dreams? Today's worksheet is meant to help you start applying the Mills 8R Marketing Model to your singing career.
Try it out! If you like it, I hope you'll sign up for the email list in the box below and share this post on your favorite social media channels. You can find me @mezzoihnen or feel free to use the hashtag #29DTD or #29DaystoDiva.