So sentimental
Not sentimental no
Romantic not discussing it
Darling I'm down and lonely
When were the fortunate only?
I've been looking for something else
The lyrics came bursting forth from the stereo speakers in our diva's living room. She smelled the curling iron heating up on the bathroom counter while she bobbed her head to the beat of her 'gettin' ready' jam. The gala that her cousin convinced her to go to was opening its doors in an hour. An introductory sip of her gin and tonic and she was ready to perfect her smokey eye skills. She didn't want to admit that she was feeling a bit nervous. She was excited to go with her cousin. But, she knew that it was going to feel like their recent coffeeshop experience with everyone greeting her cousin and stretches of time filled with conversations with strangers. "Oh wonderful, my favorite…" scoffed our diva.
The Day 7 challenge on your journey is to perfect your ability to schmooze.
A moment after receiving her cousin's text, she bounded out to meet the cab. "Oooooo girl, you look so glamorous!" squealed her cousin in delight. Our diva brushed off the compliment as she slammed the door and the cab lurched away from her apartment and into Saturday night traffic. As they hit red light after red light in the cab, they started talking about the evening ahead.
"This is the best party all year," her cousin said matter-of-factly. "Everyone is there and it always has the best booze and I cannot wait to see the themed decorations this year. It's called, 'The Rock.' They're doing the whole theme around that Sean Connery movie. Isn't it wild? There's gonna be prison cells and nuclear weapons-themed drinks. I mean, ridiculous. But, this is the party that all of my best stories come from."
"Well, I can't wait then…" our diva rejoined but with a severe lack of assuredness.
"Oh c'mon, darling. It's going to be fun. You'll meet all sorts of people. Won't that be great? I think that's gotta be wonderful for your career. These are the kinds of people that really love what you do. They're gonna be so into you."
"I mean, sure, I guess. It's just so hard to make conversation with strangers all night. It's like I start talking to them and I just don't know what to say and you can practically feel their attention waning. It's death by small talk. Not everybody is extroverted like you…"
"Oh goodness," our diva's cousin laughed heartily, "that's not how it works at all. We gotta work on your schmoozing ability. You don't have to click with everybody. But, these types of things are all about exchanging information and inventing a memorable experience."
"Dear Lord, inventing a memorable experience?" our diva's pulse began to quicken and suddenly she felt her pre-party gin and tonic kick in.
"You'll be fine." reassured her cousin.
A Warmly Welcomed Diva
They walked into the gala and it was everything her cousin said and more. There were three floors of event space with dance floors, food and beverage stations, and performers in all stages of undress. Our diva felt slightly pleased that she didn't have to perform at this event. But, then she felt an equal pang of wishing she had the confidence to bare, even just her soul, and perform. Her premonition about her cousin was correct; she was already chatting and laughing and toasting friends right and left. "Wait! What? How in the world did you already get a drink?" our diva asked her cousin. "Oh, I know the bartender," she responded. Our diva sighed, "of course she does."
They made their way to the basement of the building with exposed damp stone. Our diva was surprised that the theme was working out so bluntly. Her cousin led them, practically via homing signal, to a group of her closest friends. There was the familiar eruption of sound when one of their own joined the group. Each of the friends warmly welcomed our diva into the circle with "Oh my gosh, how is your Traviata going? When are the performances?" and a "Have you been to that new Thai restaurant across the street from here? It's divine!" as well as a "I had to tear myself away from my new puppy to get here tonight. But, I made it. Do you have any pets?" Like water beginning to boil on the stove, the conversation just took off and kept building steam from there.
The Schmoozing Formula
Because of her conversation in the cab on the way to the party, our diva had her analyst side working on overdrive throughout the party. She quickly began to see the formula, that had been hidden from her for so long, that her cousin and her friends used to be so magnetic and schmooze their way from group to group. Our diva knew that her cousin had been friends with some of the core members of this friend group for quite a while, but they had always brought new people into the group without separating from each other. That influence definitely played out during this party as one of the other of them would know a person in another group and the whole mass of them would start to meet and interact with each other. There was not a single business card in sight, but our diva knew that the yellow brick road of potential contracts and projects was being laid between these drinks and horrendous Sean Connery impressions with "don't tempt me, we are going to the morgue…"
Our diva had instantly picked up on the "asking good questions" part early when she realized that her cousin's friends had asked about the things she really loves to talk about or gave her a way to participate in the conversation quickly and earnestly. It was very clear that if anyone launched into an exhausted "well, what do you think about this weather?" that they wouldn't last very long in this friend group. But, more than that, they had asked her questions that they really wanted to listen to and then they did. It made her want to ask them questions in return. She felt like she was having a schmoozing epiphany. It made her hungry to observe more qualities that she could adopt.
Making It All About Others
As soon as the thought crossed her mind, one of her cousin's coworkers said, "Oh my gosh, are you as hungry as I am? Let's see if we can go find something to eat." With that, they took off together in search of what absurdly themed-food options were available. While waiting in line, our diva realized that she was going on and on about her new-found desire to become more creative and go after big opportunities. She caught herself for a second and wondered, "wait, how did I get here?" She was being so open with this woman that she hardly knew about stuff that she wasn't even sure she had a grasp on yet. "I love what you're saying," said her cousin's friend, "I'd love to hear more about what sparked that decision for you." Not feeling toyed with at all, she immediately became more aware that she opened up to this new friend because she had shown a genuine interest. They continued their conversation while they ate. Then, our diva excused herself and said she would meet back up with her down with the rest of the group.
As she wriggled her way through the many party-goers, she thought over her conversation with this friend. She picked up on the fact that she trusted this woman right away because she'd been so upbeat and positive in meeting her. While they were talking she had a way with getting closer and closer to the things our diva really cared about without making it creepy. She didn't come right out and ask her, "what is your greatest fear in life right now?" She just started asking more questions about the things that were relevant to both of them. But, our diva could tell that she really started to open up when her new-found friend showed empathy and candor. She even started to realize that she was trying to work out a way in her mind to work with this woman on her upcoming goals. It was like she had just discovered the answers to her math problems in the back of the book.
Winning The People Lottery
With her wrap trailing behind her, our diva poured herself into the cab following her cousin. Her cousin gave the cab driver the address, but our diva couldn't even help talking over her, "that was so much fun! Your friends are so much fun! Let's do this again. Why does this party only happen once a year?" They trilled and cooed back and forth about their whole night. Our diva was going on and on about how she couldn't wait to work with her friend and spend more time together.
"See?" purred her cousin.
"See what?" our diva asked, genuinely confused.
"That's what I meant about making it a memorable event or memorable experience. An experience doesn't have to be just the crazy themed gala. It's about the connection. If you do it right, that overall feeling is the experience. The experience is the feeling that you've received something for nothing. It's like you won the people lottery by running into her tonight."
"You're so right. Oh my God! Do I create experiences? Wait! I mean, like good experiences? Like people lottery experiences?" cried out our diva.
"Ah-ha, now you've got it," laughed her cousin.
---
29 Days to Diva: The Worksheets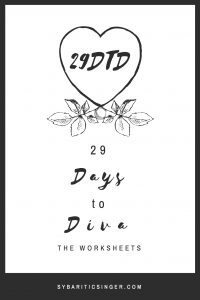 Want some help completing your Day 7 challenge? 29 Days to Diva is all about tackling the big issues of our careers through micro-actions. What can you do today to move yourself closer to unlocking your artistic integrity or achieving your biggest goals and dreams? You all know how passionate I am about being a charismatic diva! Today's worksheet is about perfecting your art of the schmooze.
Try it out! If you like it, I hope you'll sign up for the email list in the box below and share this post on your favorite social media channels. You can find me @mezzoihnen or feel free to use the hashtag #29DTD or #29DaystoDiva.