By Katie Heilman, special to The Sybaritic Singer
Photo Credit: Dan Norman
June is Pride Month, and many arts organizations in the Twin Cities are putting on productions to celebrate the LGBTQIA community. Minnesota Opera's contribution to Pride Month is a production of Gregory Spears' Fellow Travelers. Spears' opera explores the relationship between two gay men during the Lavender Scare of McCarthyism in America. It is an important time in history to explore, but Fellow Travelers may have fallen short musically.
With the same glassy texture accompanying nearly every moment in the show regardless of the tone of what was happening in the plot, the scoring was rendered weak. The music would swell triumphantly while there was little action happening on stage, or a major-key swirl of notes would flutter underneath a tense scene where the characters were fighting or sharing their fears about being caught. It did not matter what was happening on stage. It seemed too "pretty" for the tone of the show.
Another issue is the pacing. The first act moves quickly in a way that keeps the plot interesting, but the second act includes a time jump of three years that suddenly switches from a heavy, heart-breaking scene to one that seems like nothing in the previous scene had even happened, as all the characters are joyous and light-hearted. This mood then instantly reverts to one of heartbreak with very little transition portrayed in the characters' relationships toward each other. That, combined with the tone-inappropriate music, made the second act really difficult to appreciate.
Despite the shortcomings of the orchestration and plot pacing, the cast was outstanding. Andres Acosta was delightful as Timothy Laughlin, a naïve, young college graduate who is just exploring his sexuality. The internal aria he sings at a Catholic mass during Act I is beautiful and heart-wrenching. Hadleigh Adams was just as fantastic as the charismatic Hawkins Fuller, especially during his final aria, which includes some interesting Baroque-like glottal stops that do not appear anywhere else in the score. Adriana Zabala stands out as Mary Johnson, a close friend of the two men and Hawkins's secretary. She expertly performs a technically challenging duet with Acosta toward the middle of the show that makes the audience empathize with both characters in their differing views toward Hawkins.
Fellow Travelers is being presented at the Cowles Center in Minneapolis, the first time Minnesota Opera has presented a full-scale opera in Minneapolis (versus its usual home in St. Paul) since 1993. It is a lovely venue for this production, since the cast is fairly small, and the space itself is more intimate. Scenic Designer Sara Brown did an excellent job with the sets – sparse, yet surrounded by large pillars that remind one of the Jefferson Memorial and other similar monuments in Washington, DC.
If You Go
If you go, go for the history lesson and for the cast, but do not expect to be wowed by the orchestration. Fellow Travelers is running June 16-26 in conjunction with the Twin Cities Pride Festival. Tickets are $25-$100 and can be purchased online at mnopera.org/fellow.
---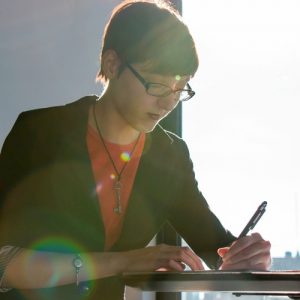 Katie is a composer, oboist, and beginner mandolinist based in Minneapolis, Minnesota. Katie currently works as the Program Assistant for Greater Twin Cities Youth Symphonies. She has a passion for using social media in the arts, as well as working behind the scenes to help the next generation of musicians.
Katie is a fierce advocate for supporting local arts. You can usually find her attending a chamber music concert or theater show on any given weekend, and she has been a member of the Schubert Club's arts ambassador group Theoroi since 2015. She is also involved in local new music society Punk-Ass Classical.
You can find Katie on Facebook, Soundcloud, Twitter, and Instagram.