By Katie Heilman, special to The Sybaritic Singer
New York-based ensemble Unheard-of//Ensemble releases its debut album, Unheard-of//Dialogues, in conjunction with their 2018-19 season exploring new directions with the Messiaen quartet instrumentation. This album features seven works—six of which are new works written for the ensemble—that range in a variety of styles, from the pleasant arpeggios of Michael Lanci's Coalesce Cascade to the extreme tensions and cacophony presented in Erin Rogers' Family Picnic 2008. The album also includes a reading of the short story The Well, by Ben Loory, the basis of Nathan Hudson's music for falling/flying. Clarinetist Ford Fourqurean, violinist Matheus Souza, cellist So Sugiyama, and pianist Daniel Anastasio are all pushed to the limits of their instruments on this album, and they perform each piece expertly.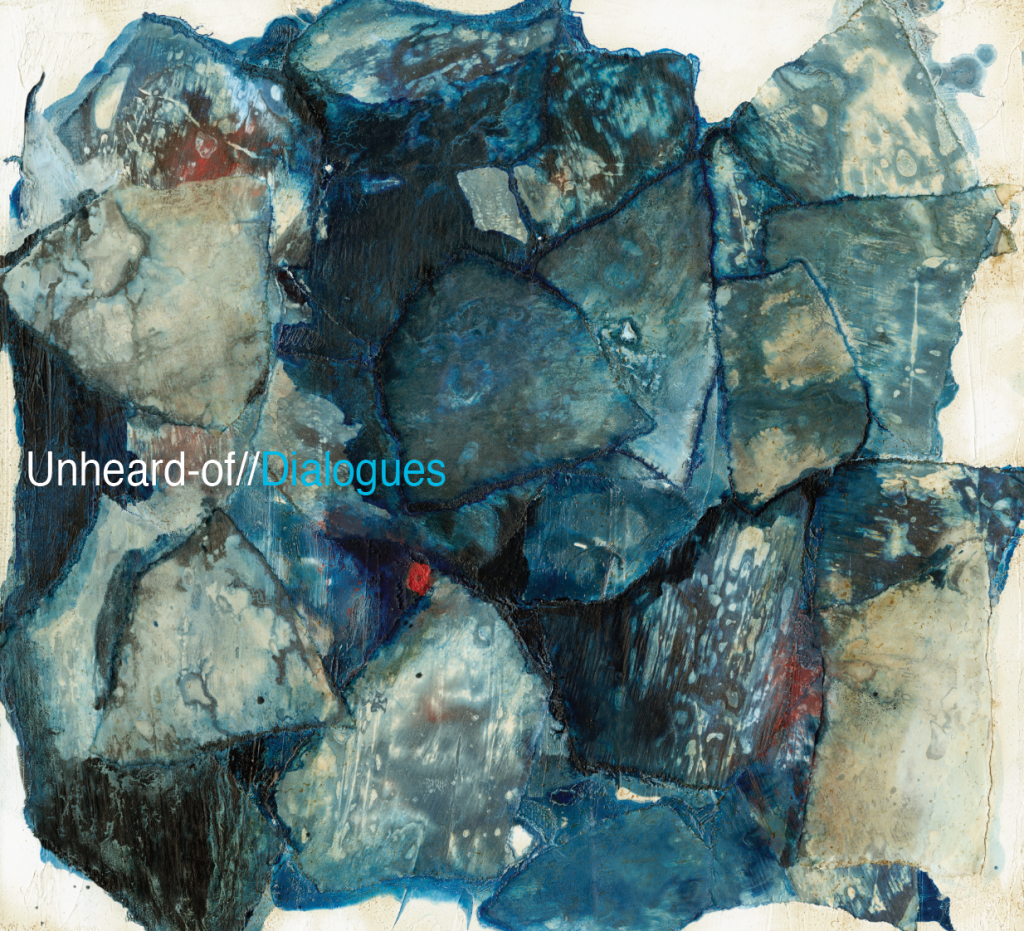 Each composer featured on the album writes masterfully for this instrumentation, taking advantage of the quartet's ability to fill any sort of sonic need with only a violin, cello, clarinet, and piano. The album opens with two electroacoustic works. Christopher Stark's beautiful yet haunting Maples samples recordings from the Yellowstone Maple Fire of 2016, a melding of the forces of both tranquility and chaos found in nature as moments of floating chords in the quartet are often abruptly interrupted, either by fast rhythmic patterns or sound samples. Following this work is Family Picnic 2008, Erin Rogers' commentary on the invasion of big banking into modern life in the late 2000s. The listener is bombarded with both recorded information and percussive sounds from the quartet, a powerful statement on modern life under capitalism. An especially nice touch is a voice saying "middle class," and another voice laughing in response, and while it is a somewhat depressing reality created in the work, it also sounds incredibly fun to perform.
The Copland-esque soundscapes created by Michael Lanci in Coalescing Cascades is a delightful palate-cleanser, for even in its moments of tension, the overall floating nature of the interplay between Anastasio's delicate piano and the other three instruments give one a sensation of soaring. The listener then dives into Reiko Füting's procession – process: peace (dona nobis pacem), a plea for peace in a state of rising political tensions. A procession or chant of sorts is interrupted by shrieks and chaos, most notably from Fourqurean's clarinet and Souza's violin, almost like demons trying to burst into a melancholy religious ceremony. Each instrument plays double roles of the "demons" and the chant, which grows more complete as the work continues, until all four instruments are finally able to end in rhythmic unison, dying away.
On a more light-hearted note, Tonia Ko's Hum Phenomenon explores the sonic gesture of the hum, with vibrations in tone and rhythm reminiscent of bees. The listener is taken on a mysterious journey, a glimpse into something so small and yet so powerful. After the reading of The Well, the listener hears the work it inspired. Nathan Hudson's music for falling/flying has a simple, yet cinematic element to it – one could imagine this being the soundtrack for the wordless, animated short film version of Loory's tale about needing to fall to the absolute point of despair before being able to fly.
The album closes with Frontlash, a comment on the spread of political information, by Nickitas Demos. Many gestures in this work are reminiscent of Shostakovich, from the marching tempo to the harsh string ostinati to Herr's haunting cello solo. It's an intense closer to the album, but for a collection that focuses on the now, it sends the listener off with much to ponder regarding the direction of modern life as well as modern music.
Overall, this album is truly a dialogue with a flavor for anyone who wants to participate in the discussion of where the Messiaen quartet instrumentation is headed. Each works sounds fresh and uses the instrumentation to its fullest potential, but in a different way. Unheard-of//Ensemble curated a diverse list of composers to work with for this project, and their contributions to the dialogue through this album carry the conversation in several bold and exciting directions.
Unheard-of//Dialogue is available now for streaming on Bandcamp.
---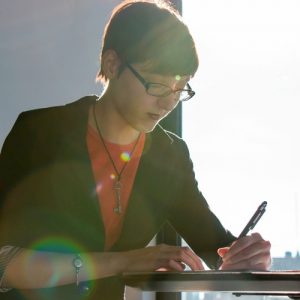 Katie is a composer, oboist, and beginner mandolinist based in Minneapolis, Minnesota. Katie currently works as the Program Assistant for Greater Twin Cities Youth Symphonies. She has a passion for using social media in the arts, as well as working behind the scenes to help the next generation of musicians.
Katie is a fierce advocate for supporting local arts. You can usually find her attending a chamber music concert or theater show on any given weekend, and she has been a member of the Schubert Club's arts ambassador group Theoroi since 2015. She is also involved in local new music society Punk-Ass Classical.
You can find Katie on Facebook, Soundcloud, Twitter, and Instagram.