By Alan Theisen, special to the Sybaritic Singer
Quinsin Nachoff photo credit: Bo Huang Photography
Quinsin Nachoff is no stranger to straddling multiple musical worlds. The New York City-based saxophonist and composer has established a reputation for composing works whose sound worlds may be crafted from various classical, jazz, and improvisational musics yet do not exhibit the clumsy collage stitching of a dilettante. Rather, his deep commitment to and knowledge of his source materials results in a masterful aural sleight of hand, a synthesis so effortless that an audience is simply left enumerating a long list of composers whose influence may be detected in Nachoff's personal style. His group Flux's second album, Path of Totality, was included in DownBeat's list of the year's top rated albums while his 2006 debut Magic Numbers paired a jazz rhythm section with a string quartet. Clearly, Nachoff has found success with his particular brand of classical/jazz/improvisational fusion. His latest album, Pivotal Arc, successfully continues this exploration with a triptych of large-scale compositions.
Passages of call and response sparkle with rhythmic suppleness and colorful orchestration
First on the album is Nachoff's ambitious three-movement, 45-minute-long Violin Concerto. Written for soloist Nathalie Bonin (who is featured on this recording) the concerto is a collaborative effort over a decade in the making. The totality reminds me of an ultimate musical offspring of Elliott Carter and Maria Schneider; like many of Carter's later compositions, the essentially through-composed, episodic nature of Nachoff's material alternates between rollicking stream-of-consciousness magic and inoffensive meandering. The first movement, intended by the composer as a "deconstructed, transfigured tango," does a fine job of introducing the sonic palette of the concerto and showcasing the formidable skills of Bonin but otherwise overstays its welcome a bit. The busy presence of drums and bass often results in a textural monotony that weighs down the 16-minute movement.
However, Nachoff's concerto takes flight with the second movement. Aptly described by the label Whirlwind Recordings as being "where Berg meets Ellington," the combination of classical and jazz materials is captivating. Passages of call and response – echoes of blues tunes and the last part of Ruth Crawford Seeger's 1931 String Quartet – sparkle with rhythmic suppleness and colorful orchestration. The monologue that wraps up this middle movement is a highlight of the entire composition. By the finale, Nachoff is in full command of the relationships between soloist and various subgroups within the ensemble, producing a fantastic romp that seems a potent mixture of L'Histoire du soldat and Don Ellis' best progressive charts. A protracted solo by vibraphonist Michael Davidson and the consistently brilliant figures by Bonin literally made me holler in joy while listening. A nice compositional touch is the sudden withdrawal near the piece's end recalling the bathetic conclusion of Stravinsky's Octet, but then Nachoff reverses course and provides a manic, free-jazz freakout that rushes headlong toward a satisfying final statement.
The musical discourse is compellingly emancipated, and evidence of Nachoff's expert and sophisticated handling of string instruments
The second composition on the album is Nachoff's String Quartet, commissioned by the Montreal-based Molinari Quartet (heard here and throughout the entire disc). The work is evidence of Nachoff's expert and sophisticated handling of string instruments, incorporating idiomatic glissandi, microtones, harmonics, and playing on multiple strings into the fabric of the composition. I have long wondered if another composer might take up the direction offered by Elliott Carter in the "Variations" movement of his career- altering String Quartet No. 1 (much the way I hear Ligeti's first essay in the genre as being "Bartók's Seventh"). Nachoff, much to my delight, investigates precisely this territory. Although his string quartet includes no improvisation, the musical discourse is compellingly emancipated, each member of the ensemble offering a variety of ideas that spin the composition into unexpected yet inevitable pathways.
The final piece on the disc, the titular Pivotal Arc, is a quarter-hour tone poem wherein jazz musicians enjoy prominent roles in the context of a larger ensemble. Nachoff describes the composition as an artistic response to the realities of catastrophic climate change: "It's being covered more prominently in the mainstream media. We're beginning to see the consequences of inaction. The direction in which the world's largest polluters are heading is very frustrating. And terrifying." Such a personal statement warrants Nachoff appearing on the track as tenor saxophonist and his performance is distinctive and gripping. Noteworthy is the work done by drummer/percussionist Satoshi Takeishi – both on the composition Pivotal Arc and the Violin Concerto.
Nachoff's album Pivotal Arc sounds magnificent, having been expertly engineered, edited, mixed, and mastered by David Travers-Smith (recorded at Studio Piccolo in Montreal). Nachoff's String Quartet alone is worth the purchase of the entire disc and I would be eager to hear a follow-up work for the same ensemble. Often I find jazz/classical crossovers to be a bit clunky or even embarrassing in their handling of disparate traditions. Not so here. Pivotal Arc is largely an extraordinary accomplishment and truly an album that gets better as it goes along. Nachoff's pieces are well-crafted, imaginative, questioning, and splendidly performed.
---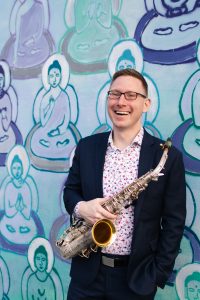 ALAN THEISEN (b. 4 October 1981) is a composer, saxophonist, author, and educator. His philosophy of creating and sharing new music with joyously unrestrained enthusiasm is evident in Theisen's multiple artistic endeavors. Inspired while reading a biography of Leonard Bernstein in high school, Theisen decided to likewise forge his unconventional career of comprehensive musicianship not by choosing between composing, performance, scholarship, conducting, advocacy, and pedagogy but by tirelessly combining those paths.