Hello friends,
When I stand before God at the end of my life, I would hope that I would not have a single bit of talent left, and I could say, 'I used everything you ever gave me.' – Erma Bombeck
I need to tell you a story. When I was seventeen years old, I knew I was going to be a high school choir director. I was convinced and told my superhuman voice teacher so. She replied, "Well, have you ever considered… performing?" With overdramatic amazement (imagine: back of hand against the forehead and everything) I asked, "Oh really? Do you think I could?"
"Oh, Megan, I think you'll do just fine." She answered.
And that was it. I was hooked. For better or worse. Forever. All I knew was that I was going to figure out a way to make a performance career part of who I was in this life. Performing is what I do, who I am, and how I relate to the world. Performances don't last. And, undeniably, neither do we. Only in other's memories. That is the ultimate beauty and heartache of it all. But, that is life and that is why I'm a performer.
So, here I am: on a mission to use up any and all of the talent I possibly have.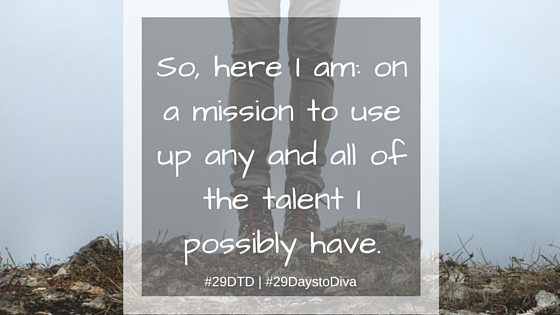 Part of that mission is getting better at what I do every year. Most of us make resolutions at the beginning of the year for the exact same reason. That's where 29 Days to Diva (#29DTD) comes into being. Figuring out tiny, actionable items, over the course of one short month, helps me get the necessary work of the career out of the way so I can dive deeper into the work of the art.
Perhaps you are hoping to find ways to move your career forward so you can focus on whatever is most important in your life. I'd like to invite you once again into the breach with me this February.
Yours,
Megan
---
Are you ready to join me and use up all the talent you've been given in this world? Let's jumpstart this mission by doing your Diva Audit before the wave of daily challenges. It's easy and free! You can download your Diva Audit by signing up for the Sybaritic Singer email newsletter here: bit.ly/divaaudit
Do you have a decision moment story? I would love to hear it. Please share with me in the comments below or on the Sybaritic Singer Facebook page or on Twitter by using #29DTD.